VISIT AND PLAY!
FREE TO ENTER
NATIONAL NAPOLEONIC WARGAME COMPETITION 2023/24
WIN £1,000 AND TROPHY – REGISTER YOUR TEAM NOW!
We are delighted to announce a National Competition to find our Napoleonic team champions for 2023/24.
The game will be a re-fight of Waterloo with every regiment, battalion, and gun present on the day represented by our 12,000 Napoleonic miniatures. This is a 5-a-side team event to be fought over a series of rounds using our 264 sq ft Intelligent Wargames Table. Our Napoleonic game has been two years in development and offers a true-to-life battle simulation, fought in real time using miniatures on the tabletop. Games will be hosted at our 3,500 sq ft venue in Edgbaston, Birmingham.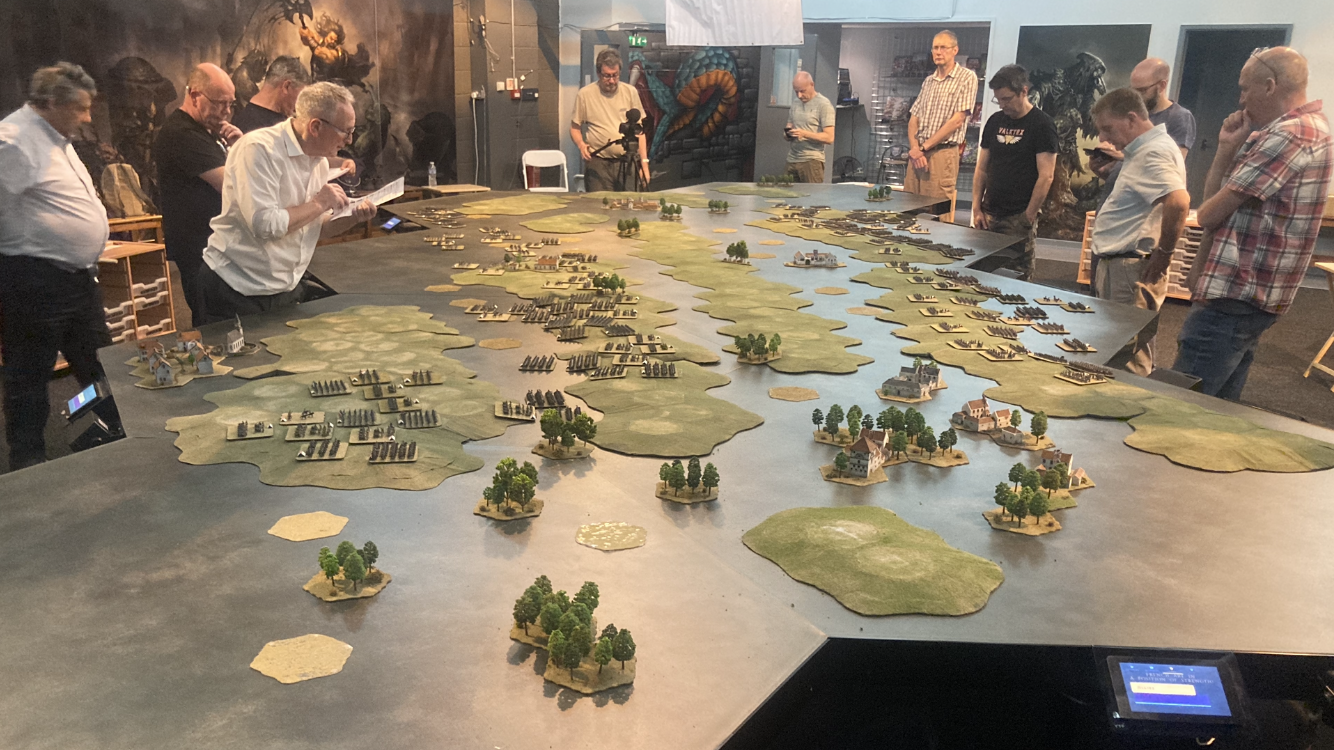 A near run thing!
What players say about our Napoleonic game…..
"I had a really great time"  J.F.
"A real treat" J.A.
"Love the idea and the technology"  M.T.
"A great game" D.B.
Enter as a club, or organise your own team. Games will be held regularly once a month over the next 12 months culminating in a Grand Final in June 2024.
COMPETITION FORMAT
This is a competition for teams of 5 players per side. You can represent your wargame club, or organise your own team. If you are an individual looking to join a team register your interest with us and we will put you in touch with other individuals with a view to forming a team.
This is a FREE TO ENTER knockout competition for 32 teams with eight preliminary rounds, followed by quarter-finals, semi-finals and a Grand Final. See "Competition Rules" for full details.
Our "Waterloo Re-Fought" game is played on a specially built 264 sq ft Intelligent Wargames Table (IWGT) which offers a scale representation of the Waterloo battlefield at a scale of 1:1000. You will be provided with free use of our 12,000 painted miniatures representing French, Allied and Prussian armies. The game offers the unique experience of a true-to-life simulation in real time. It is likely the game will last a full day, similar to the real battle, and you may expect to complete up to 100 turns to reach a conclusion.
A typical day will be structured as follows:
9.00 – 10.00am      Coffee and Introductory game session
10.00 – 10.30am    Team planning session (General Orders/Dispositions)
10.30 – 10.45am    Placement of British/Allied Army on the table
10.45 – 11.00am    Placement of French Army on the table
11.00 am Game Start
6.00 pm  Game End.
WATERLOO RE-FOUGHT – DATES
Competition games are scheduled to be held on the following dates.
Each team will fight only once in the preliminary rounds with winners going through to the later rounds. Your team will only contest one preliminary round between July 29th and February 25th. Valkyrx Limited will do its best to arrange games on a date convenient to the teams concerned.
2023
July 29th/30th                   Preliminary round 
August 26th/27th             Preliminary round
September 23rd/24th      Preliminary round
October 28th/29th           Preliminary round
November 25th/26th      Preliminary round
December 16th/17th      Preliminary round
2024
January 27th/28th           Preliminary round
February 24th/25th        Preliminary round
March 9th/10th               Round 2 match (last 16)
March 23rd/24th            Round 2 match  (last 16)
April  13th/14th              Round 2 match  (last 16)
April 27th/28th               Round 2 match (last 16)
May 11th/12th                Quarter Finals  (last 8)
May 25th/26th                Quarter Finals  (last 8)
June 8th/9th                     Semi-Final        (last 4)
June 23rd                          Grand  Final     (last 2)
Competition Rules
i) Teams should have a minimum of 5 members. They will play the role of the Commander in Chief and divisional commanders. Additional players are permitted to assist the divisional commanders if a few helping hands are wanted.
ii) Players should be a minimum of 12 years old and under 14's should be accompanied by an adult. Each team must have at least one player over 18 years of age.
iii) Valkyrx Limited (The Company) may alter, or cancel, the competition at any time and reserves the right to refuse entry to any individual, or team.
iv) Valkyrx Limited will provide the competition, and use of game miniatures, free of charge. Participants agree that The Company may use any video and photographs taken during the game for promotional purposes.
v) Valkyrx Limited will draw teams to face each other in the preliminary rounds and will randomly determine which team will represent the French forces, and which the Allies. Where possible winning teams who represented the French forces in their last match will be required to represent the Allies in their next match and vice versa. If both teams represented the same force in their previous game the umpire will decide who represents the French, or Allies, by the toss of a coin.
vi) Valkyrx Limited will nominate a staff member to act as Game Umpire. The decisions of the Game Umpire are binding and final.
vii) The team winning the Grand Final will be presented with a trophy and receive prize money of £1,000.
viii) As guests of Valkyrx Limited players are expected to behave responsibly and be courteous to others when attending games. If players are abusive, or damage property they may be asked to leave.
ix) The winner of each game will be decided by the umpire who, in making his determination, will take into account the position of the armies at the end of the game, respective casualties and the competence shown by the commanders throughout the battle. As a general guide the French will be declared the winners if they have routed a good proportion of the Allied army, or that it is reasonable to assume this would be the outcome if the battle were to continue for another hour, or two. The Allies will be declared the winner if they have significant forces remaining and occupy a strong defensive position. In the event of a "close run thing" the umpire's decision is final. In the event of a spare place becoming available in the quarter finals the opportunity to participate will be offered to the best qualified losing team from the preliminary rounds.
x) Player substitutions can be made if a player originally registered is absent from the team line-up, but a player cannot play for more than one team in the competition.
xi) Games will be played at Valkyrx Limited venue at 136 Icknield Port Road, Edgbaston, Birmingham, B16 0BJ.
xii) Valkyrx accepts no responsibility for the loss, or damage, of players' personal property while attending the gaming centre, or to vehicles using a designated parking facility.
NATIONAL NAPOLEONIC WARGAME COMPETITION 2023/24
TEAM REGISTRATION FORM
Following acceptance of your application to enter a team we will contact you with further information. Thank you.
By registering you are deemed to have accepted the competition rules.